The COVID-19 pandemic had created difficulty and challenges for businesses and industries. One of the most significant affected parties are bricks-and-mortar businesses who need to shut their door and stay put.
Lesson 1: Capture the buying behaviour of the consumer during MCO
Many had predicted that post COVID 19 pandemic will greatly affect consumer and business behaviour. Since the lockdown, hygiene has become a concern to every human being, and due to the social distance practise, we are now very used to being cautious and less social contact with people.
With COVID-19, the experts foresee that the disaster is a booster for digital transformation! It is a rapid change for the society to adopt digital and contactless mechanism for business transaction (B2B, B2C, B2G, G2B etc)
All the workflow will lead to a digitalized and less direct human interaction, for purchasing groceries, smart automated retailers and can do the job perfectly. Besides that, cashless payment or e-payment can be deployed for completing the transaction.
Lesson 2: Organise Your Business Plan
Now, you have understood your target customer's change of behavior. The next thing to do is to organise your business plan. Every successful business person reviews their business plan regularly to ensure that it continues to meet its needs.
Your plan should include:
Business aims and objectives, like how many customers you want to approach or how much revenue can be achieved?
Operational Information, in term of business platform, resources, equipment needed and etc
Financial information, including sales and profit forecasting.
Keep in mind that your strategic goals must be SMART which is Specific, Measurable, Achievable, Realistic and Timely.
If you are a brick-and-mortar business owner, will you even think that your business plan is still workable during the lockdown of COVID-19?
Lesson 3: Restructure Your Costing
Before the lockdown, your business was running as usual with rental, utilities and salaries for your staff.
In Malaysia, retailers are seeing a decline in sales of up to 50 per cent, with some expecting revenue to drop further by more than 80% over the next three months.
Most of you will be affected after COVID-19 due to decrease or even no income from your business, and do you think that you will still be able to pay all of those costs? So by now, you should be able to determine approximately how much you'll need to pay on average.
Let's just focus on one aspect, Human Resource.
We have a solution where you can enjoy zero cost on human resources. All of the workload can be handled by a smart retail – smart vending machine.
The definition of smart stands for effective and seamless purchase experience. You can apply no man on duty concept into this business:
Cloud monitoring systems allow you to check your sales and profit even from home.
Display and change your marketing ads video at touch screen panel with the cloud system.
Get your revenue by checking your online bank account.
What you need to do is just monitor your product stocks with your phone and restock the product. That's it, as simple as that!
Lesson 4: Do not rely on only just one platform to sustain your business
[Let business go online is the only way??]
Before the COVID-19, you were selling products in your retail store. And you can see that this is how serious you and other business owners' businesses have been affected currently by the lockdown.
Therefore, you have to start by mapping your Plan B. Besides online retail or retail stores, do you have any better ways to expand? Keep in mind that your Plan B should always be better than Plan A.
If you're a retail business owner with a physical store, many people will tell you to take the alternative ways to sell through online retails, through e-commerce platforms like Lazada & Shoppe, or through social media platforms like Facebook or Instagram, since online shopping is seeing a surge in online retailing.
The Fact…
But the fact is, you will still need to keep an eye on stocks count, and manually packing plus delivery to your customers. What if all of this can be substituted to only one option and all can be done by just one decision?
Thanks to Vechnology, you can now run your business in a more efficient way which is to offset your worries especially on human resources, rental and even lower down your effort.
The best solution to your problem right now is a smart automated retail which is equipped with IoT & SaaS cloud systems that enable your businesses to reduce unnecessary expenses especially for those SME who are sensitive in costing.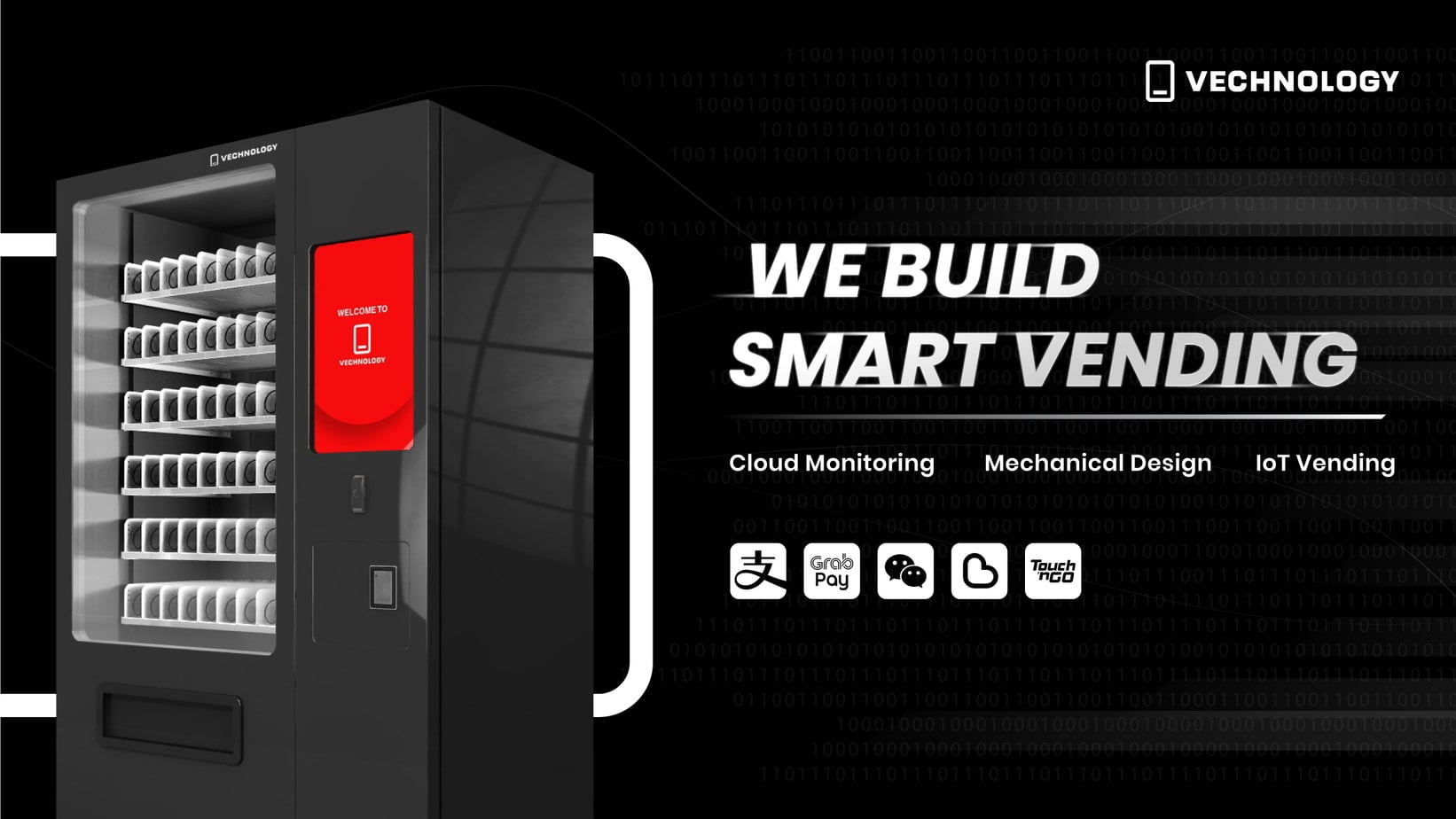 We specialise in building high quality vending machines to suit your needs, meaning it's not just limited to cup noodles or drinks but we provide IoT & SaaS solutions for handling many types of products.
Now It's the time to convert into smart retail because what retailing business could do, is to be able to be substituted by a vending machine.
Contact us now, and let us lend you a hand during this crisis.